The demand for healthcare services is increasing. Populations are expanding, average life expectancies are increasing, and in many countries, there is a rise in the prevalence of chronic diseases. Hospitals and other healthcare services are tasked with meeting this increased demand while at the same time, ensuring optimal patient experiences and health outcomes. This can be a real challenge, particularly when faced with financial limitations. Technology is playing an increasingly important role in supporting health service providers to not only improve patient experience, but also to optimize clinical workflows, and ultimately improve both staff efficiencies and health outcomes.
In this blog, we'll focus on how multi-screen solutions can help hospitals and other healthcare providers improve their clinical workflows and enhance patient experience. From digital signage to interactive patient TVs and workflow tools for care professionals, multi-screen solutions are key vehicles for helping hospitals become more efficient and effective in delivering care.
Improving Efficiency
With the right digital tools, healthcare professionals can focus on what they do best, and that is providing top quality patient care. Digital solutions can help free up resources from time-consuming tasks, such as managing patient requests, allocating rooms and staff, and managing queues. When a patient requests something via their managed TV or tablet, their requests can be dealt with more efficiently by directly alerting the most appropriate person to attend to this need, whether it is a nurse, healthcare assistant or someone else.This non-urgent nurse call mechanism allows using the physical request button for medical emergencies, which reduces stress for everyone involved and can potentially save lives.
Rooms and staff need to be managed efficiently to maximize resources and save costs. Digital door displays can help with this by showing meeting room schedules, staff names and roles. By integrating with calendar and staff allocation applications, display information can be updated in real time. This makes it possible to use spaces dynamically and adapt to changing needs on a daily basis.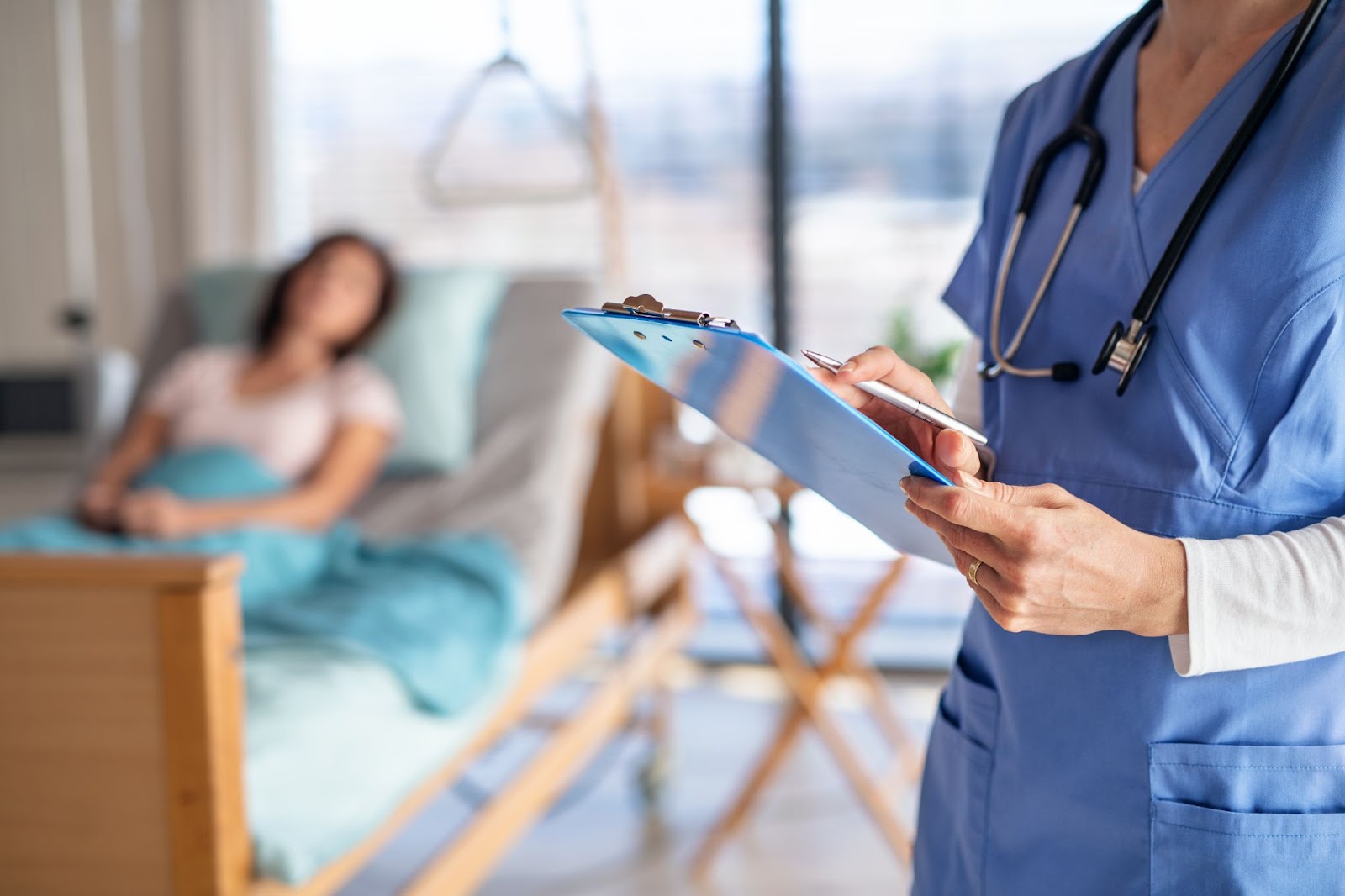 Managing queues and reducing waiting times has always been a key challenge for hospitals and other healthcare settings. Combining self-service check-in kiosks with digital wayfinding can transform the entire queuing process. This way, staff resources are freed up, and at the same time, waiting times are reduced. By streamlining these processes, hospitals and other healthcare sites can save costs, and focus more on providing quality patient care, and improving patient experience.
Enhancing the patient experience
Patient experience is about so much more than just ensuring that a person is satisfied with the service they receive throughout their healthcare journey. It includes every aspect of a patient's interaction with the service, including arrival at the hospital, checking in, finding the way to the right department or room, waiting times, quality of care provided, right through to being an in-patient. Patient engagement is widely accepted as being an important factor when it comes to improving clinical outcomes as, when people are engaged in their care, hospitals are better positioned to ensure the best possible care and reduced recovery times, which in turn leads to reduced hospitalization and lower costs.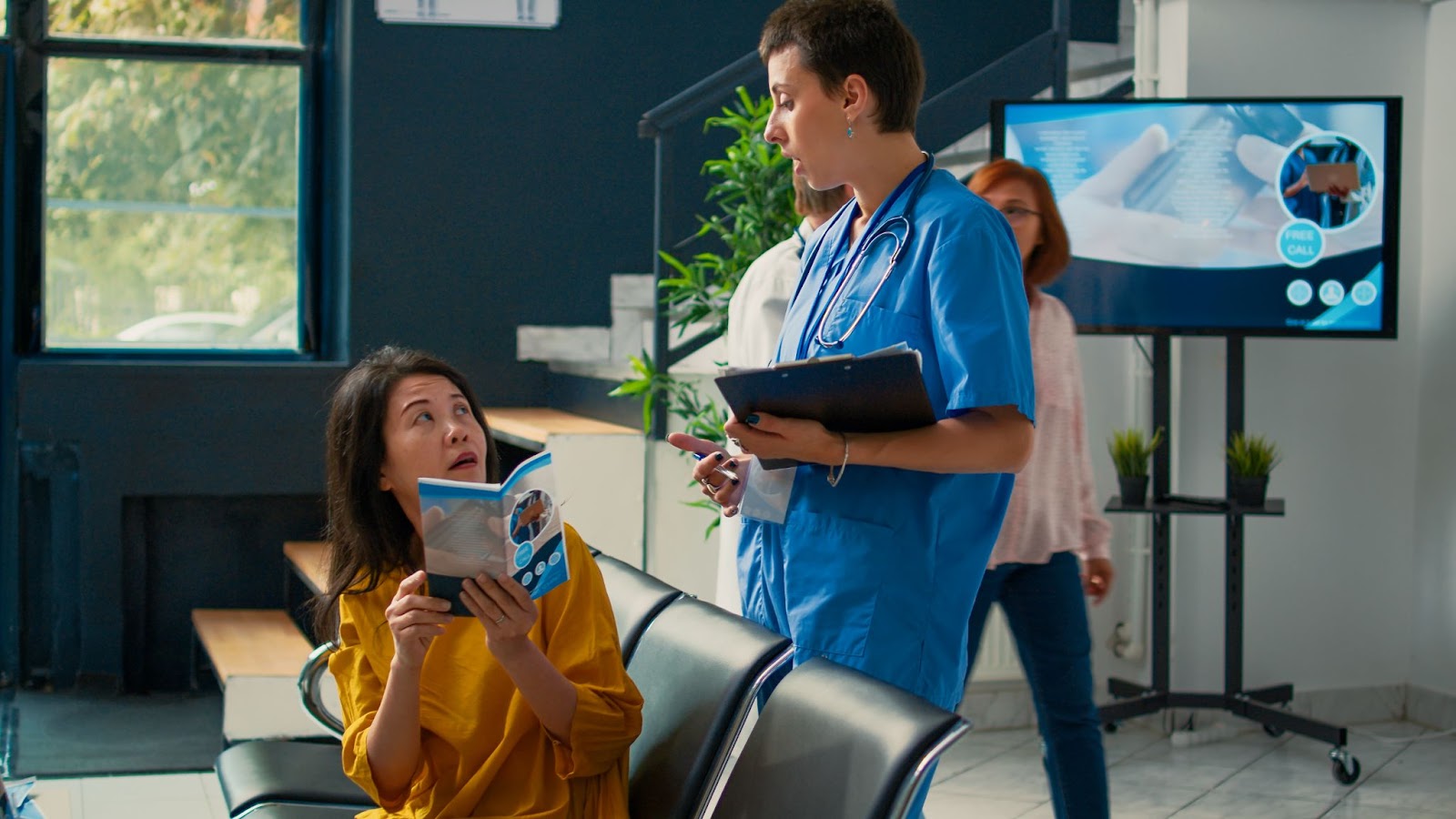 Patients often arrive at hospitals feeling stressed and worried. Having the right information at the right time can help put a person at ease and reduce stress levels. Interactive self-service kiosks and touch screen portals in public areas can provide patients and visitors with information and services such as appointment check-in. Hospitals can also be difficult to navigate, and just finding your way to the right place can add to an already stressful situation. Digital signage can be used to guide a patient to the right location by showing floor plans and room numbers. After a patient has checked in to their appointment, digital signage can even integrate with patient call-in systems to direct individual patients to the right place by displaying avatars and queue numbers on displays in the waiting areas and near treatment rooms.
Better communication is a big part of improving patient experience. Digital signage screens can be used to display important information, including waiting times, wayfinding, hospital maps, and schedules. It is an especially powerful tool because it can be updated in real-time. This means that hospitals can quickly and easily communicate important information to patients and visitors, such as changes to schedules, upcoming events, important announcements, and public health information.
More than just entertainment
The value of good entertainment in a hospital setting cannot be overstated. It is a vital part of making the patient feel relaxed and able to switch off from the reality of their situation. This is a really important part of aiding recovery so it stands to reason that TV has long been used in hospitals as a form of entertainment to help pass the time and to relax and distract patients. Nowadays there are even more options to transform the traditional hospital experience for patients. With interactive patient TV, hospitals can give patients access to a wide range of entertainment, such as TV channels, streaming apps, video on demand, movies, radio, and games.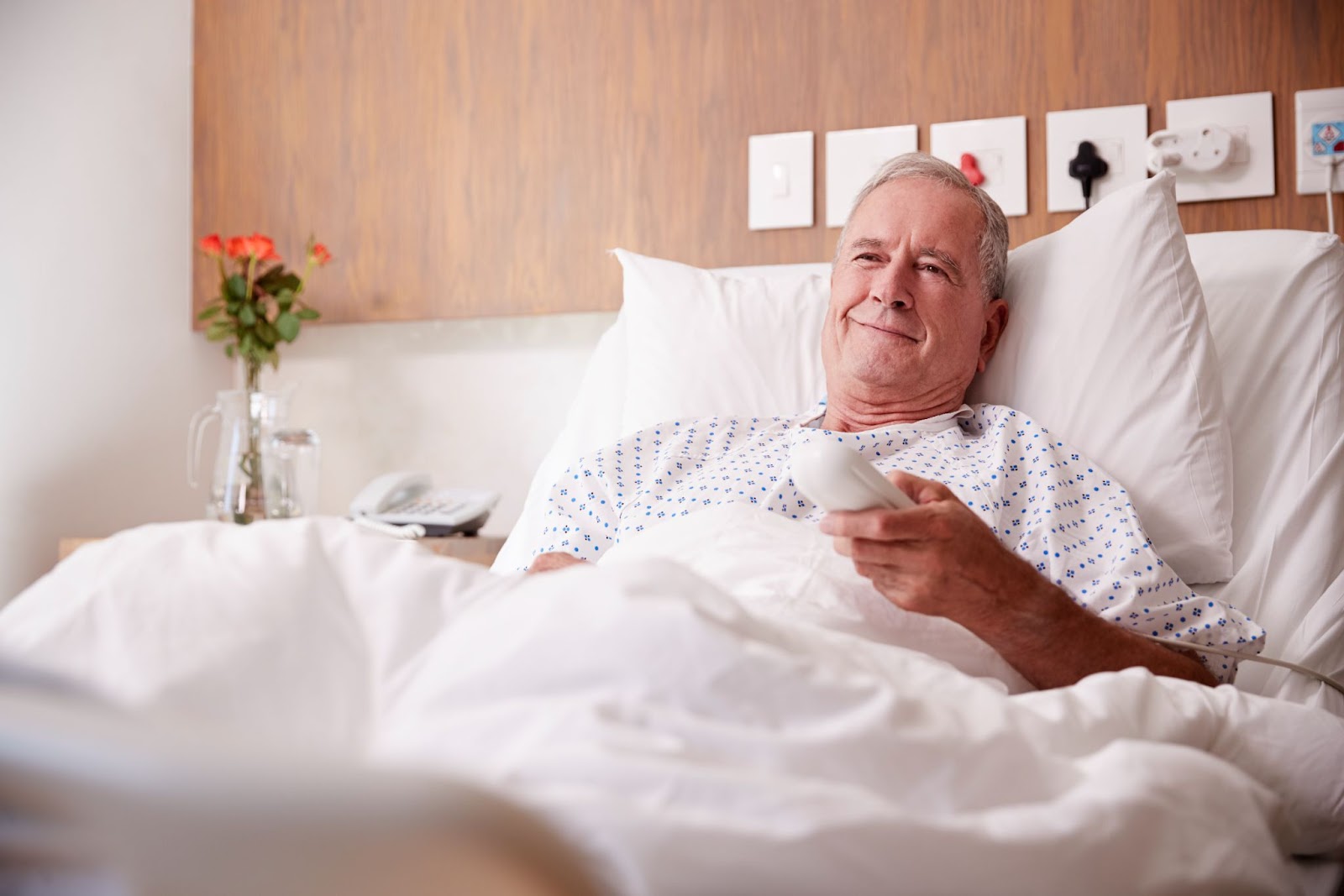 Beyond that, these systems mean that patients can also access information such as general health information, condition specific information and discharge instructions. Keeping them updated about their own condition and thus involved in their own care is an important part in helping with rehabilitation.
Ultimately, this is not just about providing entertainment and information to patients, but also about helping them communicate with healthcare professionals more easily. Patients can use the TV or their mobile device to request assistance, communicate with their care team, and even to have a virtual medical appointment. Other things like ordering meals and contacting family and friends can also be done using the TV or mobile device. Being able to communicate better with healthcare professionals, hospital services and the outside world can improve patient experience by reducing isolation and giving patients a sense of control.
Hibox Smartroom is a multiscreen TV system that improves workflows for staff and engages patients. It makes hospital care much more efficient, while improving the patient experience by keeping people entertained as well as engaged with their own care and rehabilitation.
The Hibox team will be at the DMEA show in Berlin from 25th – 27th April demonstrating the Smartroom solution. Get in touch for more information or stop by our stand (Hall 2.2 | F-107) for an in-person demo.