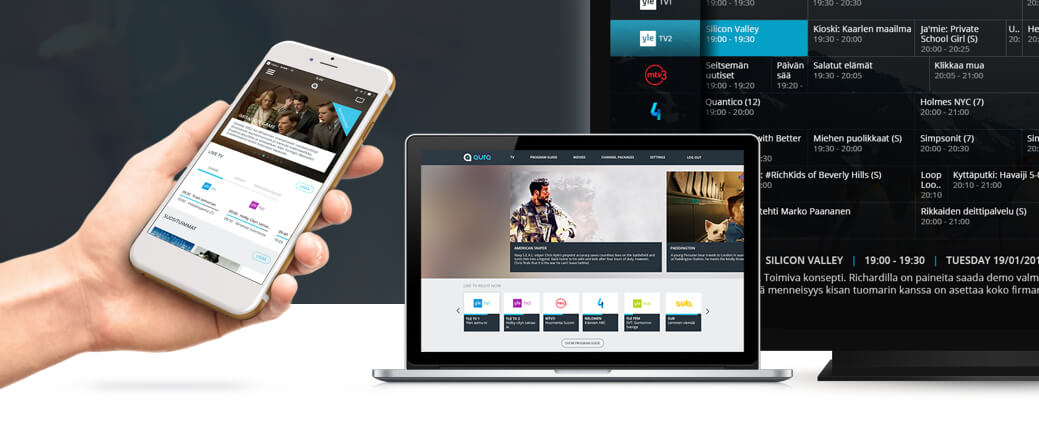 Hopefully this will be useful for cable companies evolving to IP, for ISPs adding TV, and for Telecom providers adding mobile TV. Let's start the discussion with a planning tool.
Start with a 5-yr TCO tool for OTT planning (Total Cost of Ownership)
It's hard to build an OTT business plan without a Total Cost of Ownership tool that covers at least a 5-year period. It's easy to build a revenue plan, but it's hard to understand all the costs associated with an OTT deployment. The initial investment is fairly easy to quantify, but it's the costs and timing for when to add additional servers, streamers, and storage based on additional subscribers, concurrent users, and additional channels. We know, we spent 2 years building a cost model that includes every technology needed for OTT initial investment, ongoing run costs, and future year's costs due to scaling. The tool includes everything from transcoding to streaming to packagers to DRM to middleware and even end user devices like STBs or smart TV apps. The tool even calculates the professional services needed to get it all to work. Without this tool, you stand to make the same mistakes as many by requesting "a quote" for individual technologies without ever really understanding the true total cost in future years when your business grows and you need to scale your servers and services.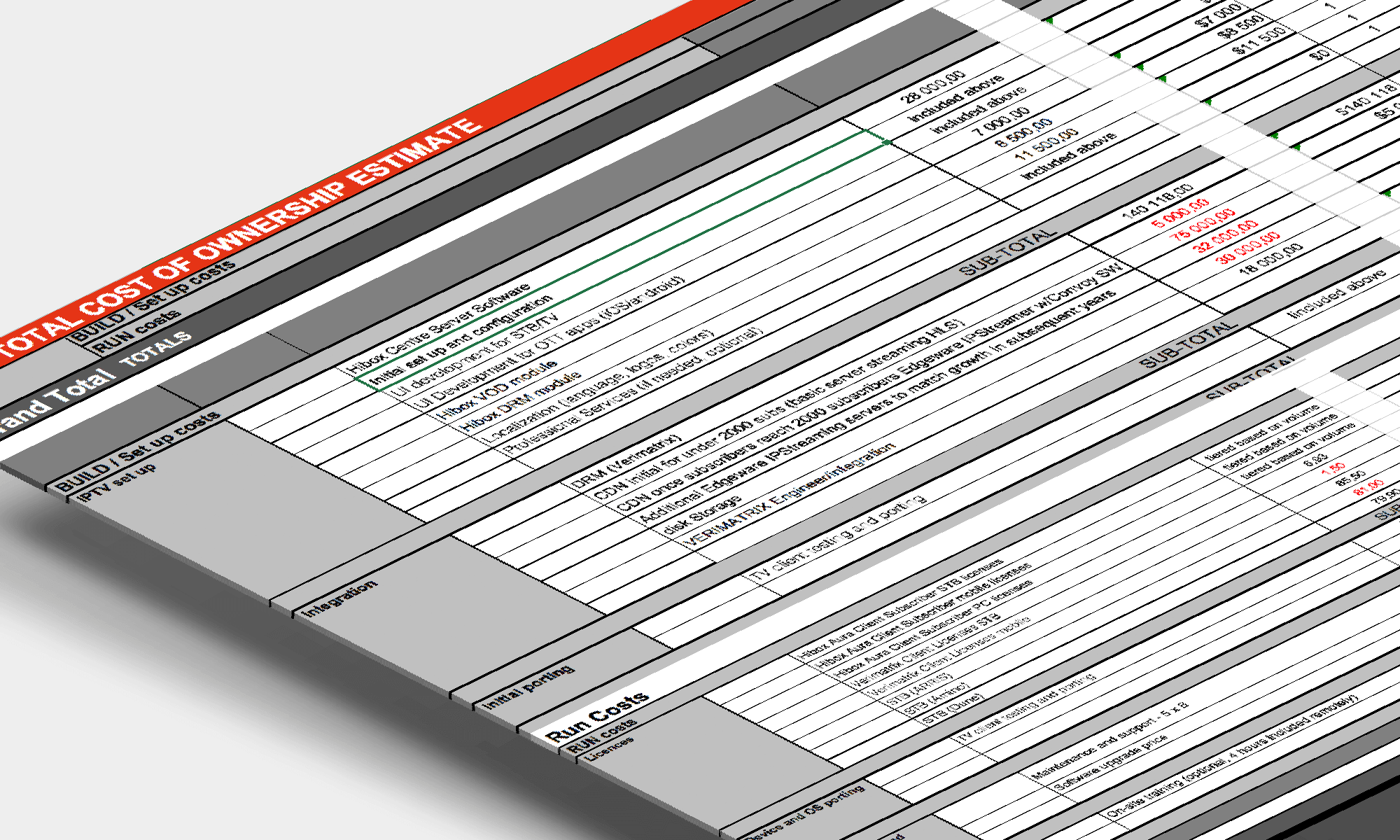 Example Total Cost of Ownership model
Next step, the channel list
To help make your business plan even more meaningful, you'll need a channel list. With a channel list, your plan will be a more accurate budget and not just an estimated ROM (Rough Order of Magnitude). The channel list drives many of the rest of the technology choices like Head End and transcoding, DRM, and the scaling for streaming and storage.
Determine which DRM
With your content agreements in hand, now you'll know your options for which DRM to choose. The reality, since you are going OTT, is there are only a few options available that support all the devices (mobile, SmartTV, Android TV, STB). Your goal should be to choose a single DRM/CAS that can support OTT to all the devices so that you can avoid the need to support multiple DRM systems.
Transcoding, packaging, so many choices
Transcoding is required for your OTT deployment, a technology to both size and shape the content for multiple devices in addition to providing different profiles to automatically match the bandwidth available to each device. In the past, transcoding has been expensive per channel but that appears to be changing as the engineering evolves. For instance, if you're streaming HLS then you'll also need a packager and origination server, and we are starting to see Head End manufacturers' offering small starter packages. The starter platforms include transcoding with packager/origination servers in-a-box, and the prices also seem to be coming down. One good example of an affordable starter platform is the WISI Multiscreen Launch Platform (MLP), which is as a transcoder, live-streaming packager, and origin server in a single 1 RU box box. With the MLP, you can transcode, segment and package up to 12 HD or 24 SD sources into HLS, allowing you to serve up to 500 HLS clients at 4 Mbps each. The nice thing about this platform is that it also includes VidiOS, a simple web interface for stream management and monitoring. With a user friendly, simple set up, it allows you to create playlists and video segmentation for HLS Delivery to ABR-capable set-top boxes, TVs, smartphones, and tablets. Multiple redundancy features are also included, giving you an easy to configure platform that can monitor up to 6 parameters in the primary source, and automatically failover to backup sources when errors are detected. As a highlight, since the MLP operates as an origin server and all streams are hosted on a ram disk, the end user experience is seamless, giving subscribers the ability to switch between channels at a faster rate than digital cable. The Multiscreen Launch Platform is a great solution for operators and broadcasters who are sending OTT video content to a dedicated audience, such as hotels, cruise ships, universities, or MDU's. Other possible applications include satellite replacement, using the MLP as a cost-effective way to distribute content only previously available on expensive satellite feeds, or as a test platform in an internal lab setting. Remember, no matter which starter platform you choose, you'll need the transcoder/packager integrated with the DRM you've chosen. Not all systems with packagers have the DRM system you've chosen, or if you're in a situation where you need more than one CAS, then check to make sure the starter platforms support each of your encryption systems.
The key is the middleware
Even though the middleware will be the least expensive item in your budget, it will be the important communication traffic cop between all the hardware and devices in your network. And even more important, it's the customer-facing technology that needs to be flexible and creative. We believe the middleware should be agnostic as to various technologies, in other words, the architecture allows for any combination of transcoders, streamers, DRM, and client devices. That way you are not locked into any one brand or device so you can change as technology continues to change. Our recommendation is to choose a technology-flexible middleware that scales nicely, can be from the cloud, and/or virtualized. Also, especially check to make sure the middleware has already created the integrated modules for mobile (iOS, Android), smart TVs, and Android TV. The middleware provider should be able to present you with an app for each device that is ready for approval by the Apps Stores.
Options for Video On Demand (VOD)
We believe the market is becoming very "On-Demand". Even sports apps are becoming more and more popular so that you watch your teams anywhere and at a time that fits your schedule. For instance, I'm a huge NBA.com fan and have the app that allows me any game and all the Playoffs, and I live in Austria! Of course, I'm still waiting for Tennischannel.com to be approved in Austria. Apps are especially critical for the way Millennials want their content, which is when they want and where they want. Millennials are more likely to define their content viewing and device by using apps along with certain live TV, so we are seeing providers adapt their content offerings with this type of business model. Once you've chosen the transcoding, packager, DRM, and middleware, the decision on VOD are fairly straight forward. Most subscribers today want catchup and they also want the ability to pause, FF, and Timeshift live TV. So, a solid IP Streaming Server with properly sized storage is your next decision. There are many streaming servers on the market but we advise to use carrier-grade streamers and not just a cheap streamer. Believe us, you'll be a happy technology provider with the right streamer and even more important, you'll have happy subscribers. And you'll also want to optimize the VOD solution so you can automate a lot of functions and not require additional staff, here's a good blog on how to optimize VOD.
Choices regarding devices: STB's, mobile, PC's
Your last few choices are interesting because they will be the ones your customers will see and touch, the user experience UX/UI. Subscribers want the ability to start watching or recording a program from one device and then watch it from where they left off on another device later. So, choosing an STB that supports your chosen DRM and middleware are crucial. We find it fascinating that many providers start their business planning process by choosing an STB before any other technologies. It's true the STB becomes the most expensive on-going cost in your network. But in fact, you can reduce your over-all investment and run costs by choosing the STB after making your choices in DRM and middleware so they also match the services you want to provide. We like Linux or browser-based STBs since they are much more stable and secure (for now) than Android STBs. We are seeing that most traditional STB manufacturers are developing sandboxes for apps in their Linux STBs, probably hitting the market in 3rd or 4th quarter 2017. Although nothing is as fast as going direct to a SmartTV or AndroidTV, so having a middleware that has a fully integrated platform to support STBs, Android TV, SmartTV, iOS, and Android smartphones is critical (here's a cool video to highlight an integrated platform).
Choosing your integrator
The key to the whole project, the key to being delighted with your investment will be your integrator that knows how to make it all work. There are many moving parts described in this blog and fine tuning the parts to make it all work needs an experienced "turnkey" integrator. You'll know when you've found an experienced one by the way they answer your questions. Like when you ask them about using a certain STB and they answer "yes, but it depends on…..".