Welcome to the first part of our 3-part series on starting a new IPTV and OTT service. Whether you are starting a completely new OTT service or investigating the possibility of revamping an existing service to IPTV (or already in the process of doing that), this series is for you.
In this first part, we'll focus on developing the requirements of your service, while part 2 will be on budgeting and part 3 on scheduling. In every part we'll offer a free downloadable tool or template related to the topic that I hope you'll find useful when starting your project for an OTT/ IPTV service.
In this part for example, we'll offer a complete RFP template that you can download below.
So let's get to it!
Why OTT and IPTV is important
Today, over half of wi-fi connected homes subscribe to at least one OTT media streaming service. Users love watching their favorite shows, movies, live tv programming etc. when and where it best suits them.
The beauty of OTT and IPTV streaming services is that content can be watched on any device, anywhere, any time, and multiple device sharing of OTT content is becoming a habit for consumers on PC's, smartphones, tablets and especially on smart TVs.
This also means that you, as a provider, must be ready to support multiple devices, and you don't always have to offer your service through a TV like a traditional broadcaster.
But there is a lot more that goes into developing a 21st century streaming service than choosing the right platform for your consumers.
That's why the first thing you must do when starting your project is to develop your requirements. This will largely influence your choice of supplier and your budget. A good place to start is to define your requirements in a request for proposal (RFP).
What requirements should you include in an RFP for a IPTV/OTT streaming service?
There are a multitude of requirements to consider. First you must flesh out what type of service you want to provide obviously, but creating a thorough request for proposal is crucial for making sure that you choose the right supplier, and that you end up with a service that fits your customer base.
Communicating your needs clearly from the get-go is the first step in building the type of service you envision and the first step in ensuring a smooth deployment.
You should consider at least the following when creating your request for proposal:
Required components of the platform
Platform and server architecture
Disaster recovery
Features of middleware
User interface functionality
Statistics and analytics
Support and warranty
Content Delivery Network (CDN)
Conditional Access System (CAS)
Digital Rights Management (DRM)
Device support
Set-top-boxes
Integration to external systems
Implementation
Management, monitoring and security
Communication
Training
Are IPTV and OTT deployment requirements standard?
Simple answer, no. The deployments of IPTV/OTT or the migration from another technology to IP is never the same. But what can be considered standard, are the basic features and functions of IPTV and OTT.
You'll need basic features and functions for the middleware, for the CDN, the CAS/DRM, and for the end user devices. You'll also need to identify areas of customization and integrations that you'll want to consider for a successful IPTV/OTT deployment.
But I already know what I want to provide with my streaming service?
I'm sure you do, but the fact of the matter is that building any type of IPTV or OTT service can be complex, costly and time-consuming if you don't know all the ins and outs.
It's been our experience in helping providers in several countries that there is a gap between what they think they need and the size of their budget... Costs tend to add up quite quickly in IPTV/OTT deployment.
But that shouldn't discourage you, it just highlights the importance balancing what you want and understanding what you actually need. This is exactly where the importance of a well developed RFP comes in. It is the backbone of the entire project.
So, we've accumulated our best practices of developing, deploying and maintaining IPTV and OTT services in an RFP template. It gives you very concise requirements (including everything mentioned above, plus more) with a singular goal: the ability to define a project and service that you can afford.
IPTV and OTT request for proposal (RFP) template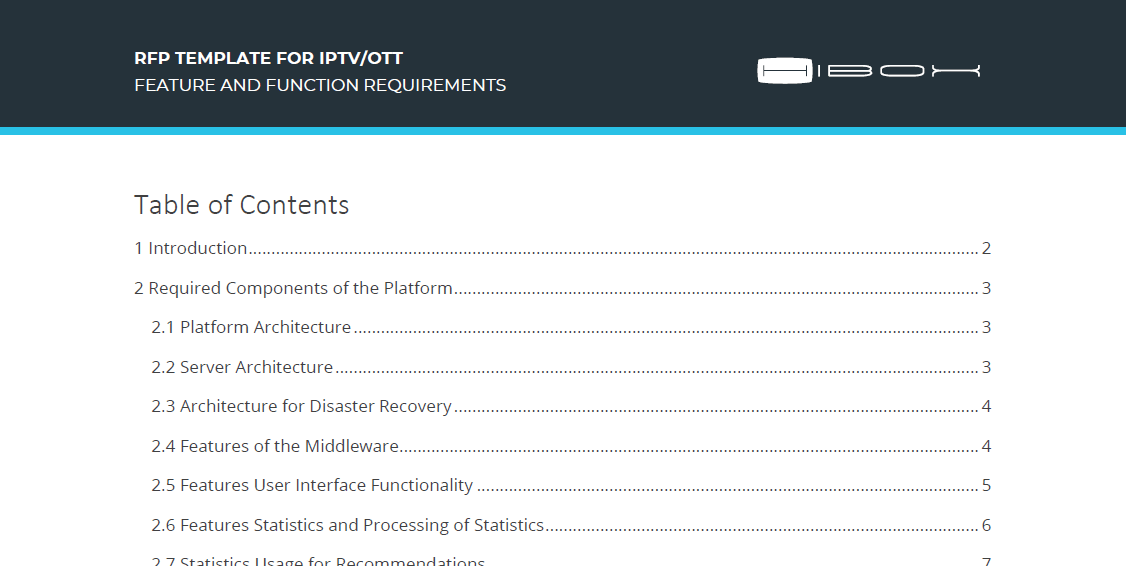 We have developed the template through years of working with projects and clients in IPTV/OTT and you can download it for free from the button below (the template is in .docx format and will download directly to your device).
I hope this article and the RFP template is useful in your IPTV or OTT deployment and that you get off to a great start with your project. If you have any questions regarding IPTV and OTT, streaming services, TV and multiple device services, or anything else for that matter, feel free to contact me directly or hit the contact button at the top.
In the next part, part 2: Budget - Pricing the Total Cost of Ownership (TCO), we'll look at how to balance the costs of your IPTV and OTT project and you'll get a tool for building your TCO.