Welcome back to our 3-part series on starting a new IPTV & OTT service.
In the first part of the series we looked at how to develop your requirements in the form of a Request for Proposal (RFP) and what you should include in the RFP so that you choose the right supplier, ensure a smooth deployment and ultimately create the type of service that you want.
The requirements in the RFP will largely drive your budget and define the overall costs of the project. So using a tool to make sense of the investment for your IPTV/OTT service is going to require some really good price analysis, like the Total Cost of Ownership (TCO).
In this part, part 2, we will be doing exactly that by taking a look at how to create a solid and accurate budget for your IPTV/OTT project.
Developing the budget for an IPTV or OTT service
So how big is the breadbox..? What's my investment going to look like..? What's a good budget amount for the technology to build an over-the-top service..?
Crucial questions that are among the first to come out of anyone's mouth when starting a new streaming service, and questions that we get asked all the time.
Naturally the answer can be complicated. It is very dependent on your requirements, in other words what you want your service to look like and how comprehensive you want it to be.
As I mentioned in the previous part, costs can pile up quickly in IPTV and OTT, which highlights the importance of thorough requirements.
Pricing the total cost of ownership will give you an accurate estimation of your investment and help you understand whether or not your requirements are realistic. If you're like everyone else, after you create the budget based on the RFP requirements, you'll probably need to go back and revise the RFP to make the requirements more affordable.
To help you budget your project, we have developed an Excel-tool for calculating the total cost of ownership for any period of time, and which you can download from the button at the end of this post.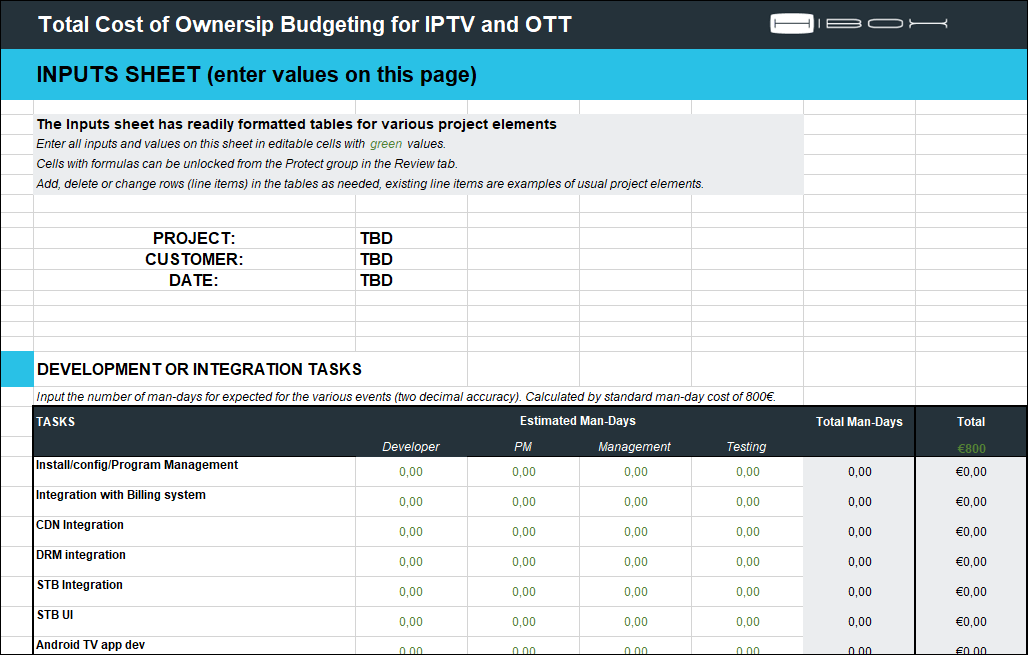 Budgeting IPTV and OTT with the Total Cost of Ownership (TCO) tool
When you start planning the budget and entering your values into the tool, you should consider the questions below. They will aid you in the process and make sure all angles of consideration are included. Some of them might already have been covered in the RFP process but it is good to review these again at this stage.
Aspects to consider when developing Total Cost of Ownership (TCO):
Assumption is OTT, but will you also be providing IPTV over multicast? (or which networks: public internet, xDSL, FTTx, Wimax, etc)
Is your intended geographical market outside your own country
How many channels?
What's your best business guess on subscriber growth (for sizing and scaling)
Year one, start up, pilot, test market
Year 2, 3, 4, 5
Will any of the content have metadata available for populating EPG and VOD information, or is the content so specific that it is created manually?
If metadata is available, is it available in a standardized format already supported by the vendor?
Will you have VOD assets?
Do you have an idea of the number of VOD assets?
Can you make a best guess as to concurrent users for VOD assets or catchup of 30%?
Or do you want to scale for those times where concurrent users are higher (sporting events, political, etc)?
Will you want to provide the ability for Catchup TV/replay or recording/pausing?
Do you have an idea of the number of channels you'll make available for catchup and recording?
Is a two week period for nPVR recordings suitable?
Will all content be HD, or e.g. 20% SD and 80% HD?
Do you have a current CDN?
Will you be using virtualized servers in your NOC?
Will you need a new head end for encoding/transcoding?
Will you use HLS format for streaming?
Will you require redundancy at the start?
Do you require DRM, and if you have already, which CAS/DRM do you have?
Which combination of STB, smartphones (iOS/Android), Android TVs, and PC's do you want?
Will you also have radio channels?
Considering all of these aspects might even reveal something you missed in your requirements and allow you to iterate back, making sure that all wanted features are included in your budget.
I use this TCO tool for all our client projects and it has been a great asset to develop budgets, estimate costs and for communicating both requirements and limitations that are budget dependent to clients and to my team.
You can download our TCO tool from the button below. Make sure you don't miss the next and last part in the series, part 3: Setting the Timeline of your project.
Hope this has been beneficial for you, I'm always available if you need help understanding the tool, or with anything else regarding the budgeting of your IPTV or OTT service.
As mentioned, in the next part we'll round things off by covering project scheduling and timelines, and you will get the last tool; a template for easy project planning and scheduling of your IPTV/OTT service.