Welcome to the third and final part of our series on how to start a new IPTV or OTT service, I'm glad you found your way here. I hope this series will help you navigate the treacherous terrain of modern streaming services and help you with your own deployment.
This time we will be looking at the final piece of the IPTV/OTT deployment puzzle: planning a project timeline.
So far we've gone through how to identify the requirements of your service through a request for proposal in part 1, and how to set a budget based on those requirements by pricing the total cost of ownership for the service in part 2.
In case you missed the first two parts I suggest you check them out as well to grasp the entire picture of managing a project in IPTV and OTT.
As in previous parts, we have a pre-made tool for you to download in this post. But before that, let's take a more detailed look at timeline planning for IPTV and OTT deployments.
What is the value of timeline planning for IPTV and OTT deployments?
IPTV and OTT deployment is a complex and time consuming process. You can expect a minimum of 5, and in many cases up to 9 months for a typical deployment.
The length of any project is of course dependent on multiple things, such as the number of integrations you're planning and the hardware your service requires. Complicated customizations will also add a significant number of man hours to your timeline, but we have found that 5 to 9 months is a rough industry average.
We have also found that IPTV/OTT providers spend a lot of time developing their requirements and financial plans (which we encourage), but very little time setting a reasonable project plan with a timeline that clearly outlines the various activities needed for project completion.

An IPTV and OTT project requires mulitple stages and activities to reach deployment.
Oftentimes providers pick a timeline that is some point in the future but maybe not that relevant. Not relevant unless they took into account how long it takes for hardware to be manufactured and delivered or for software customizations and integrations to be developed.
Projects usually also require multiple revisions of different activities while they are under way. Delays out of your control occur and deadlines get pushed.
Schedule changes like these are something that all of us are quite used to and they are also somewhat expected right..? I would at least say so, but, delays are a reality we can and should prepare for.
Having a project plan that shows the current status of the progress can help you rearrange priorities and reschedule activities easily and efficiently so that your deployment deadline remains unchanged. It is a far better alternative to the "it's ready when it's ready" approach.
Additionally, delays in IPTV and OTT deployments might have significant ramifications for your expenses and postponing the launch of the service also postpones your income from subscription fees, which highlight the importance of purposeful planning even more.
Which tool works best for project timeline planning in IPTV and OTT deployment projects?
We recommend using a good old Gantt chart (thanks Henry) for helping plan the timeliness associated with each project activity.
For instance, with a Gantt chart, you can highlight each activity and plan which projects can work simultaneously or in sequence with other activities. The tool also helps plan for when hardware needs to be ordered to keep the over-all project schedule in-sync.
The other advantage of the Gantt chart for planning purposes is that it can be used later as a project management tool for communicating the progress of your project.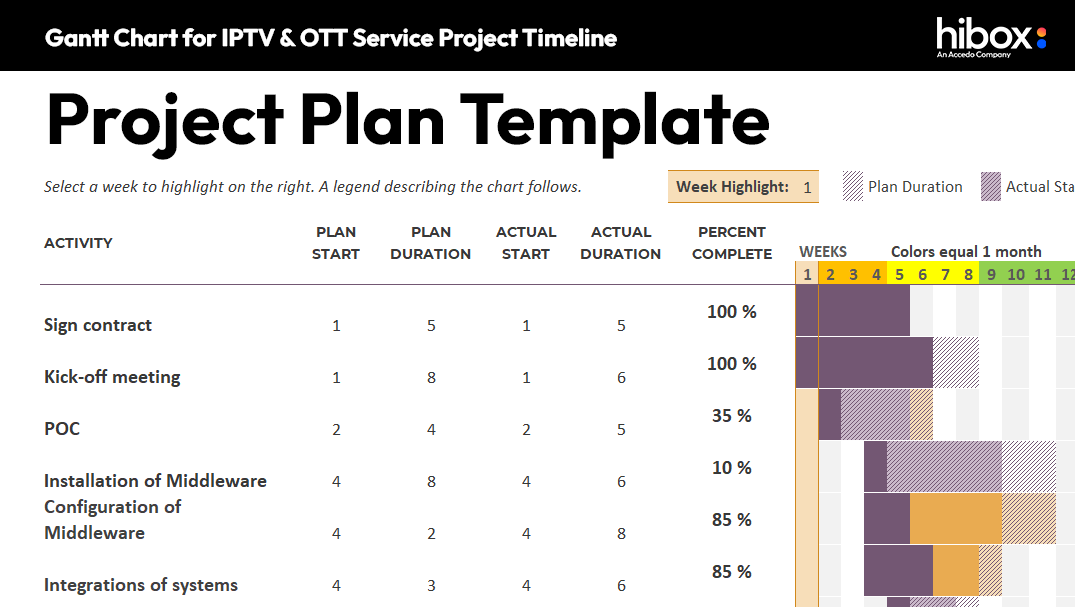 Hibox's project planner utilizes a Gantt chart.
If you want to download our pre-made project planning tool, that is based on a Gantt chart tailored for planning IPTV and OTT deployments, you can do that from here.
What activities should you include in an IPTV and OTT deployment timeline?
So, what activities to include in your plan is obviously dependent on your individual project and what type of streaming service you are intending to build (which your RFP and budget should tell you), however, some activities are a given in most projects.
I've compiled a list of the activities that should be included in the planning of a deployment below, this is the same list that you will find in our downloadable planner tool.
Items to consider in your Gantt chart planning for IPTV and OTT deployments:
Sign Contract: this is an actual timeline issue that delays everything below
Kick off meeting: this should be quite formal for activity planning and also with discussion and agreement on roles and responsibilities
Proof of Concept (POC): where a beta launch is done to identify any areas of change or improvements.
Installation of Middleware: this is done remotely
Configuration of Middleware: this is also done remotely
Integrations of Systems: can include any or all of the following using APIs from the middleware

Monitoring Systems
DRM (Digital Rights Management)
CDN (Content Delivery Network)
Headend
EPG (Electronic Programming Guide)
Metadata

Billing System Integration: can be a proprietary billing system, an online system, or a billing package integrated with the APIs from the middleware
DRM testing: testing to make sure streams play on all devices
CDN testing: testing to make sure all streams play on all devices with good quality
UI (User Interface) development: customization and branding using templates or a unique design
STB (Set-Top Box) integration: can be multiple brands or single brand that is compatible with the chosen DRM
Training: for administration and troubleshooting, Tier1 and Tier2 support training
Initial system tests: for making sure all channels and streams work as expected
Final acceptance testing: using a previously agreed acceptance of project plan
Certification of acceptance: which allows for a starting point for any future or additional additions to the platform
These are the same activities that we have included in our downloadable project planner. The planner can help you identify each activity for your IPTV or OTT deployment. It also gives you the ability to easily see the timelines and interactivity of the various tasks and activities.
We use this tool in all our streaming-related projects and we've found it very helpful, hopefully you do too.
To round up, I highly recommend downloading the assets from this as well as the previous parts in the series.
We've developed all three of them for our own projects, leaning on years of experience in IPTV and OTT deployment. I personally use them pretty much every day with my clients, partners and team, and I find them really helpful in both planning and communication of activities and goals.
So again, I hope you've found this series helpful and as always I'm available for any and all questions you might have regarding how to start an IPTV or OTT service, or anything else related to TV, middleware, content streaming and everything in between.
Have a good one!